Angelina Jolie took to the red carpet with husband Brad Pitt and showcased a stunning new hair do.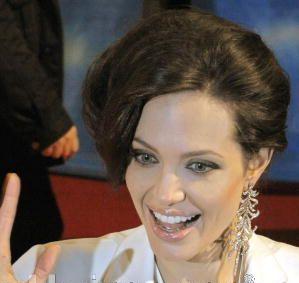 The actress was sporting a glamorous updo which was styled in a sweeping side bun.
The couple stepped out together in Germany for the premiere of Pitt's latest film "The Curious Case Of Benjamin Button".
Angelina Jolie looked resplendent in a white trouser suit and teamed her classy tresses with elegant drop earrings.
Meanwhile Pitt looked dapper in a suit and scarf and donned a moustache to finish off the look.
While the U.S. actor was clearly excited about seeing his new film, which is released in the UK on February 6, he also hailed the inauguration of Barack Obama as 'a new era'.
He revealed that he was looking forward to the event today and that the American people were ready for change, saying: "It's a new era for us – it reconfirms the original ideals of America. We're very excited about what the future holds. You see people look invigorated at home rather than the cynicism for the last 10 years."
He also revealed that he found Europeans congratulating him on the day of Obama winning the election while he was filming forthcoming film Inglorious Basterds in Berlin, adding: "I've been filming here the last few months and the Americans who were here during the night of the election were congratulated by all Europeans on the set."
Comments
comments