Brad Pitt is front and center promoting his new cinematic effort, "Inglourious Basterds" with director Quentin Tarantino, but it is his "wife" who is quietly retaking the limelight.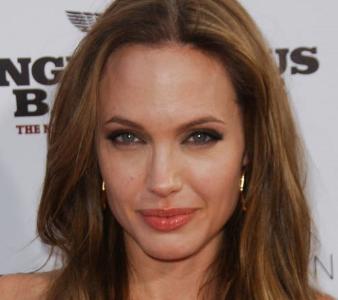 Common law wife (not officially married) Angelina Jolie has reignited the press with her leather dresses, trademark tousled brunette locks and simply elegant makeup. It is also the carefully leaked sound bites from a myriad of interviews that is ending speculation that ran rampant for months that Pitt was boring of his ball and chain, and the drain of small children.
Her media nemesis, Megan Fox, a younger, tartier and certainly more tattooed version of her, has also been making waves, trying to knock Angie from the apex of endless "most sexy" lists.
Angelina is back in full force.
The sexy couple have been sharing very personal details of their sex life to family skewed publications like Parade; the "secret grotto" revelation deemed a "great place for sex" was offered up by a doting Pitt.
Jolie confirmed this to Extra, "Yeah, well, we got a few special places, you know? You keep it going."
But Brad, 45, laughed, adding: "It's not true. We have far more comfortable places to go. There is an old Hollywood property just a few minutes away. It has a grotto there. The rumor is Jimi Hendrix spent some time there. That's the story. I run with it."
The last few years have seen Angelina take on more serious, less glamorous roles, but it is clear she is back in Mr. and Mrs. Smith glamorous mode. Her recent past roles as Mariane Pearl in "A Mighty Heart" had the actress in dark makeup and curly hair wig, and her role as a distraught mother in "Changeling" netted her an Oscar nomination. Her upcoming thriller, "Salt," promises to return Angelina to her more physical action-packed sexy superstar mode, a la Lara Croft and Jane Smith.
Comments
comments