Angelina Jolie is a jealous, cunning liar who schemed to lure Brad Pitt away from Jennifer Aniston, cheated on him with a woman rock star, — and even slept with her own mother's boyfriend! These are just some of the explosive revelations that could be served up about Hollywood's most famous mom in two shocking new tell-all books.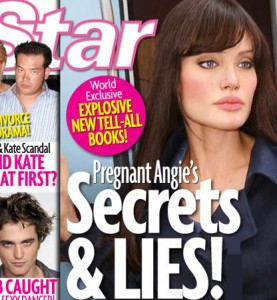 In the May 18 issue of Star — on sale today — we have the inside stories about the books about Brad's baby mama — one to be written by renowned investigative reporter Andrew Morton, the other by Angie's former bodyguard Mickey Brett — and the revelations they could include paint an unflattering picture of the wild child-turned humanitarian.
One of the shocking claims — detailed in our cover story — that could find its way into one of the books is that a teenage Angelina hooked up with her mother Marcheline's boyfriend.
"March and her guy had a huge fight, and Angie saw her chance to seduce him," an insider tells Star. "Angie cried and begged March to forgive her. Of course, March did."
Morton and his team of researchers are now in LA starting work on his blockbuster. And if he misses any juicy scandals, the ex-bodyguard has his own stories, including her hush-hush liaison with one of the biggest names in rock.
"Mickey the bodyguard knew all about this relationship," an insider tells Star. "And the details are pretty hot!"
You should better pick up Star magazine today for the complete story.
Comments
comments