Angelina Jolie, who was promoting "Salt" film, has some shocking photographs from Star magazine.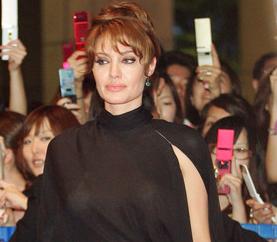 The magazine published photograph, which showed topless Angelina with black tape across her breasts. A black and white photo of Angelina was wearing a G-string and cowboy hat. The sizzling photographs were taken from Andrew Morton's authorized biography.
Although there are outrageous claims about Angelina's past and present relationship with Brad Pitt, the actress recently revealed that Brad knows her completely, exactly as she was, every part of her.
Comments
comments