Angelina Jolie bought her adopted son Maddox a bagful of books at Borders in Chicago, last Sunday.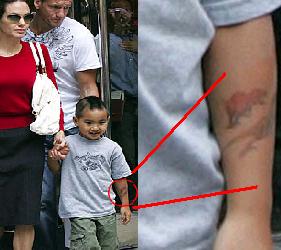 After playing games on his recent birthday, Maddox will probably spend the days ahead soaking up with books and he looks pretty excited with the prospect.
Maddox, like his mother, was seen sporting a tattoo on his right arm. The pattern on his tattoo seem unrecognizable, it is a good thing that his tattoo is just a cartoon tattoo that could be easily removed with soap and water.
Angelina Jolie, who has 13 tattoos, has experience of going through the pain of having a tattoo of Billy Bob Thorton removed from her arm, saying: "I'll never be stupid enough to have a man's name tattooed on me again."
Comments
comments