Paris Hilton, who recently found her entourage in Malibu, was spotted looking sexy in bikini.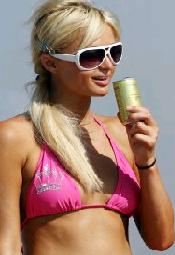 The socialite, who believes her friend Nicole Richie will be a great mother, was spending her time at a beach party in Malibu and she was wearing a pink bikini.
The socialite was also seen emerging from the waves after a refreshing ride on a bodyboard in Malibu, where she is enjoying time at her beach house.