Angelina Jolie, who dressed down for the press conference in London, and Brad Pitt are in the the UK to promote Angelina's latest film "Changeling".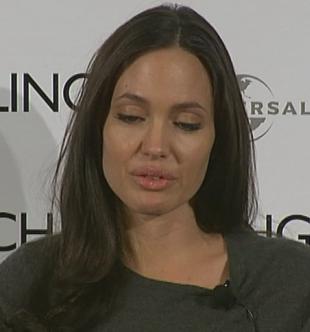 During the conference the pressure of her work seemed to be getting to Angelina, who became tearful as she paid tribute to her mother, who died in January last year after a long battle with cancer.
The actress revealed that she had been taught the right values in life by her mother. She spoke of her mother as she said: "Her name was Marcheline, but we used to call her Marshmallow, as a joke, because she was just the softest, most gentle woman in the world. She was really sweet and was never angry – she couldn't swear to save her life. But when it came to her kids, she was really fierce and so this (film) is very much her, her story. She was the woman I related to, who had that elegance and strength for knowing what was right."
In the film, directed by Clint Eastwood, Angelina Jolie played the role of a mother in 1920s Los Angeles whose son is kidnapped.
When her child is returned to her, she quickly realizes that the boy is not her own. The character highlights the corruption of the Los Angeles Police Department and challenges the police after refusing to have such injustice forced upon her.
The "Challenging" star also hinted that she may slowly move away from acting and continue expanding her family, saying: "I have a big family and a lot of responsibility at home, and I have the good fortune financially not to have to work all the time, and I just feel privileged that I get to be home a lot. Maybe eventually I'll stop (acting)."
And when asked if the public could expect her to expand her family again, she replied: "Sure you can."
Her role in the movie appealed to her as it was an 'inspirational and true story' as she added: "When I first read the script I just couldn't put it down, but then I said no, I'm leaving it. I didn't want to get involved with the project because it was too upsetting. But then I couldn't stop talking about her (character). I found myself sitting with people and wanting them to know about this extraordinary woman.'
The 33-year-old also praised director Clint Eastwood and said she had always wanted to work with him, adding: "He is a really good man. He is one of those very fair, strong leaders."
Comments
comments