Angelina Jolie, who was previously received a doctor's warning that she would never have another biological baby, is like a tiger.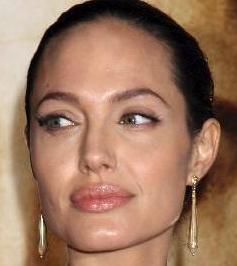 The "Changeling" actress, who has one of the creatures tattooed on her back, revealed that they are her favorite animal and she would be "honored" if anyone compared her to them.
She explained: "My favorite animal is the tiger. I like them because they are very independent creatures, they are majestic and they always move forward. Their tactic is to attack, not defend."
She continued: "So I wouldn't mind if I was compared to a tiger, it would be well received and I'd feel honored. Besides, every woman has something of a tiger inside her and so do I."
The 33-year-old star, who raises six children with partner Brad Pitt, also confessed she is useless around the home.
She added: "Honestly, I'm not a very good housewife but luckily Brad is great in the house. He has a good eye for structure and architecture. For example, we love to share breakfast, all of us, so we have an excellent place with a lot of light."
When not dining together, Angelina likes to encourage her children to be active, and is already helping them learn how to defend themselves.
She explained: "I love martial arts. They are ideal for children because they teach them discipline and perseverance. In fact, my son is already starting to go to class. Physical exercise is ideal, it's much better than sitting in front of the TV or the computer screen. I like all of Bruce Lee's films, he was the best. I also like Jackie Chan a lot, my kids are Jackie Chan fans."
Comments
comments