Holy Madison and Chris Angel, who have been dating since the blonde beauty's October split from Hugh Hefner, were spotted at Berger & Son Fine Jewelers in Las Vegas on Christmas Eve eying rings.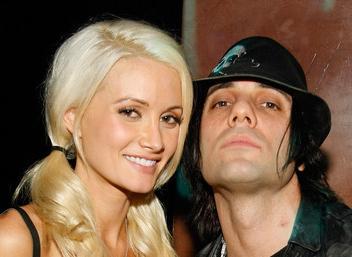 An insider revealed: "They were looking at one ring and Criss said, 'Would you marry me?' Holly didn't say anything. She just looked at him."
A previous report indicated that Holly Madison intended to propose to her magician beau, saying: "I made Criss a paper ring, but he won't wear it."
After a crowd began to form outside the store, the pair prepared to make a hasty exit, and Angel "handed the ring back to the sales guy and said, 'Thanks,'" according to the witness.
A representative for Holly Madison admits Criss Angel picked up bling for her but says it's not for a wedding.
The representative revealed: "Criss bought Holly a ring for her birthday. It's a flower ring."
A source close to Angel said: "He asked Holly what she wanted for her birthday and she said she only wanted a flower so he got her the diamond ring that is shaped like a flower."
Holly Madison turned 29 on Dec. 23, while Angel turned 41 on Dec. 19. They celebrated together at a party on Angel's birthday at Las Vegas club, LAX.
Just a few days later, their parents met for the first time on Christmas.