Angelina Jolie, who was involved in a stick situation after the gum clinging incident to her Christian Louboutin stilettos at the premiere of Beowulf, has another wardrobe malfunction with her split pants.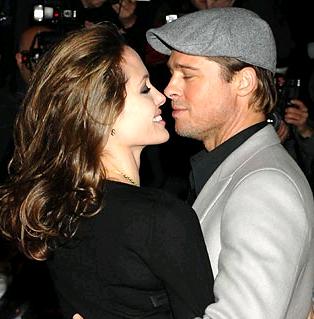 The "Good Shepherd" actress, who wore a black leather pants on the red carpet, was exposed her red thong for everyone to see this weekend in the UK.
As the actress cuddled lover Brad Pitt, his hand, which was placed strategically on her bottom, inadvertently was concealing a split spreading in the seam of her tight leather trousers. It was Brad's comforting hand on her bottom managed to slightly conceal the wardrobe malfunction. You could see the wardrobe malfunction here.
The actress who was once renowned for her curves has dropped pounds since the death of her mother. She admitted that she had been shy about seeing her body so exposed in the animated epic.
In one scene the gorgeous actress emerges from a lake [email protected] and dripping in liquid gold. The image has been digitally enhanced using the latest animation techniques and Angelina Jolie's curves are rather more pronounced than in real life.
The 32-year-old actress revealed, "She's a great character. It's great to play a bad guy and a mom."
Comments
comments