Ana Faris, who graces the Playboy magazine for its September 2008, stars in the new comedy film "The House Bunny."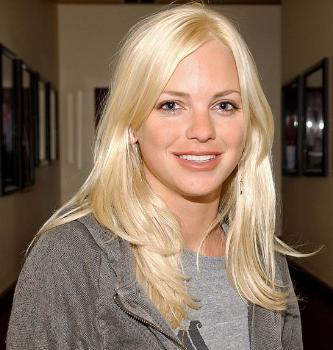 Here is the highlight of the interview of the best Bunny in the house talks about raunchy humor, those gawky teen years and what it's really like hanging with Hef and the girls:
You're best known to movie audiences for your role as the hilariously clueless, adorable Cindy Campbell in the four raunchy Scary Movie flicks, as well as for playing an airhead movie star in Lost in Translation. If we'd known you in high school, would we be surprised you get cast so often that way?

Anna Faris revealed: "I was maybe a little eccentric in high school. I felt unattractive, short and self-conscious about my body, and I would purposely emphasize that by doing odd things. I wore glasses, braces, odd hairdos and dumpy clothes. I was clumsy and awkward. When I was a freshman I wore a Christmas-tree skirt as a cape. I couldn't get any dates until senior year, and I remember the first time I heard a couple of guys commenting that I had a nice body, it was such a huge shock. It felt really good."

When was your family most shocked by your behavior? Anna Faris explained: "As a high school junior I wanted to hang out with the cooler kids, who were going to parties. My brother is three years older, and both of us went through our partying, drinking phases in high school. I would sneak out and stay out late. I got caught with a fake ID when I was 20. I had to go to court. I was terrified of what my parents were going to do, but they thought it was hysterically funny. It was like, Wait, what happened to the parents I used to know, who would've been furious?"

We all know, thanks to your recurring role last season on Entourage, that your first name is pronounced "Ah-Nuh." Have you spent a lot of time schooling people in that pronunciation?

Anna Faris continued: "All my life. I worry that people think I'm being pretentious, but it's an old family name. I feel inappropriate correcting people, so I'm always grateful when somebody around me says my name correctly, and then usually people catch on. That was one thing on Entourage I was a bit of a stickler about. My boyfriend on the show kept mispronouncing it, and I was like, "Look, I'm really sorry, and normally I wouldn't do this, but you have to call me Ah-Nuh if you're going to play my boyfriend." I mean, Anna Kournikova is Ah-Nuh, right? I think it has kind of caught on."

Which of your Entourage co-stars would you most want to crash a party or go clubbing with?

Anna Faris answered: "Oh, Kevin Connolly, for sure. We got along great, and he's a lovely guy. He treated me with a lot of respect. He was a true professional. I enjoy parties, but I have to say I don't really go to clubs at all. I'll go to a dive bar, and I love hanging out at home, drinking wine, watching a movie. I'm pretty low-key. I love to host people at my house, but I tend to start early and crash early. I'll just sneak away to the bedroom, shut the door and let my friends enjoy themselves for the rest of the night."

You've said you always wanted to be an actress. Why did you bother to get a degree in English literature from the University of Washington?

Anna Faris added: "When I was in college I decided to quit acting. I had a job prospect at an ad agency in London, and I was going to go live there. My parents were disappointed that I was throwing in the towel, but I just didn't want a life of struggle. If I was able to get a day of work doing voice-over stuff for a commercial or if I was hired to do a training video or something, I just saw it as great college money."
Meanwhile, the extended a-list family showed up in support. Demi Moore, Ashton Kutcher and her former husband all showed up for the premiere of Playboy cover girl Anna Faris's new film "House Bunny."
So why was Demi Moore plus 2 hanging out on the pink carpet? Her daughter Rumer Willis is in the film.
The film is yet another sexy comedic effort from Anna Faris and opens on Friday. In House Bunny, Anna plays the quintessential hottie, a Playboy Bunny turned sorority girl. When asked how she prepped for the role by People magazine she responded, "I started to work out intensively a month before [shooting], I cut out carbs – and I used a padded bra that I still pull out every now and then."
People then asked the perky blonde, "You're scantily clad during most of the film. Did you feel self-conscious?" She said, "At first I felt very modest, like, "I've got to keep this robe around me all the time because underneath I'm wearing underwear!" After a couple of weeks I felt, "Oh, screw it. Nobody cares."
The magazine also asked her about her co-stars, "How did your co-stars Rumer Willis, who dons a neck brace, and Katharine McPhee, whose character is pregnant, fare?" Faris replied, "I was worried they were going to be like "I don't want to wear a neck brace" or I don't want to have a pregnant belly." They totally surprised me. They were so into it."
Comments
comments