Anna Kournikova does Maxim for its September 2008 issue with catchy caption: Anna Returns! Your Favorite Tennis Hottest Player's Hottest Shoot Ever.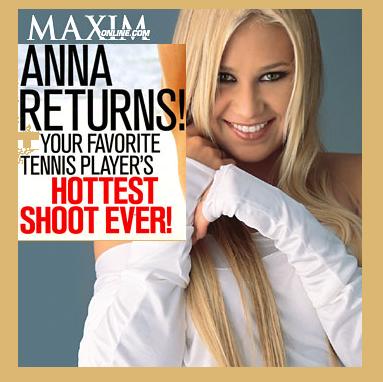 The magazine describes her as: "the ultimate tennis temptress serves up the sexy and declares that she's single again. but don't get too excited—it's not like you have a chance in hell!"
According to the magazine, before simply being superhot, Anna was a superhot tennis player. In fact, Anna ranked as high as No. 8 in singles and No. 1 in doubles. Now she watches "Heroes" while listening to Elton John and drinking diet soda… We can only assume. For more stunning shots of the Russian hottie, check the Maxim official website.
Here are some details of Anna Kournikova favorites:
Hobbies: Reading, working out, all water related activities, going to the movies, art, fashion, animals, anything having to do with the ocean and the beach, spending quality time with my friends and family
Places To Visit: Moscow, Bali, Mexico, Paris, London, New York, and anywhere else that I can be with my friends.
Foods: Japanese, Italian, and American
Dessert: Anything milk chocolate, and Cheesecake
Drink: Diet Soda
Movie: Pretty Woman
TV Shows: Heroes, Desperate Housewives, Conan O'Brian, Oprah
Musical Artists: Elton John, Enrique Iglesias, Gwen Stefani, Sade
Non-Sports Activity: Reading, Socializing
Lucky Number: 7
Color: Black
Tennis Shot: Overhead and Dropshot
Surface: Grass
Tournament: Wimbledon
Career Highlights: Steffi Graff at Eastbourne, Martina Hingis at Berlin, reaching the Semi's of Wimbledon and making the finals of the Lipton (defeating 5 former #1 ranked players)
Training Exercise: Core Stability
Motivational Training Technique: Feeling a sense of accomplishment, and Dessert Other Sports: Basketball, Soccer and Hockey
Comments
comments