Anna Nicole Smith chose photojournalist Larry Birkhead to give her the beautiful blonde baby she craved because he was good looking, according to the tragic actress/model's bodyguard.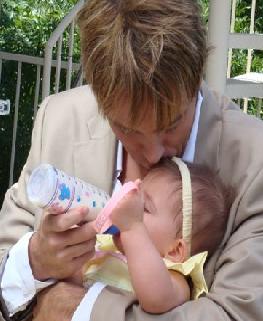 In a new TV interview commemorating the anniversary of Anna Nicole Smith's death, the blonde's longtime minder and companion Moe Brighthaupt insisted his former charge had no interest in a lasting romance with Larry Birkhead.
He revealed, "Because of how Larry looked, she figured, 'My child would look great – blonde hair, blue eyes… My baby will come out beautiful.'"
He insisted that baby Dannielynn's biological father wasn't even Smith's type, saying, "First of all, she liked men that was wealthy (sic). That's no secret."
The bodyguard really turned on Larry Birkhead, telling the news show that Anna Nicole Smith told him she thought the photographer was a "homosexual,"which was a claim that Larry Birkhead has repeatedly denied.
The bodyguard also criticized him for taking his daughter to her mother's grave site for a TV special last week, explaining, "I thought that was very disgusting… When he comes on TV and he parades her off it seems like it's a laugh in Anna's face."
Before Anna Nicole Smith death, she refused to acknowledge Larry Birkhead's paternity claims, insisting he wasn't Dannielynn's father.