Antonio Banderas could be forgiven for getting carried away in the company of Cameron Diaz.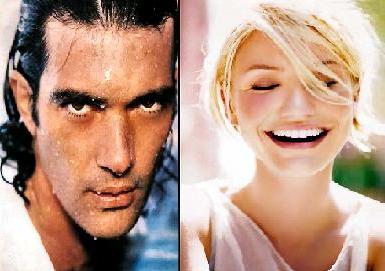 Indeed the actor was unable to resist the urge to literally sweep his co-star off her feet during a boat trip on the river Seine while promoting their animated movie "Shrek 3".
While in town, Cameron Diaz, who voices Princess Fiona in the flick, has managed to fit in some cultural sightseeing despite a hectic schedule, including the film's Paris premiere on Thursday. The actress and a friend took in the beautiful Chateau de Versailles and its famous hall of mirrors, and made a private visit to the Musee d'Orsay art gallery – which stayed open after closing time especially for the star.
Back in the States, Cameron Diaz was on the mind of new beau Criss Angel. The illusionist declared his feelings for her during a daredevil stunt over New York's Times Square in which he escaped from a locked concrete box suspended 40ft above the ground.
Just before he was locked inside he declared: "This is dedicated to my new girl. You know who you are. I'll be thinking of you." When he emerged the next day he stood with his hand on his heart and told the crowd: "I'd like to dedicate this escape to my girl "trouble", aka Cameron. I love you baby. Have a safe trip to Europe for your Shrek tour."
His affectionate comments come hot on the heels of last week's protestations that they were just good friends and she was out of his league. "Cameron Diaz is one of the most beautiful actresses in Hollywood and so talented… Take a look at me. Do you really think she'd be interested in me?" he said at the time.
Comments
comments