David Beckham revealed that their U.S. move turned Victoria into "happier than she's been in ten years".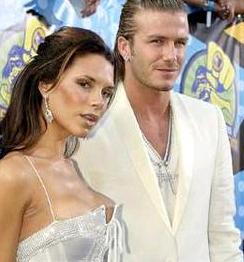 According to a report, the soccer player is thinking putting his American dream on hold in a desperate bid to save his England career. He is seeking crisis talks with bosses of LA Galaxy to discuss a possible return to England on loan in January.
The report claims that bosses at Becks' LA Team Galaxy will consider cutting their losses when their season ends on October 21 and allow Beckham to return home temporarily in the hope that if he achieves his England dream he will return refreshed to help them fulfill their own aspirations.
Alexei Lalas, the Galaxy general manager, revealed, "We would never stand in the way of a player representing his country. David's love of England and the honor it is for him to represent his country is evident from the first time you talk to him."
As for Victoria, a source revealed, "Victoria's hardly bothered meeting the wives and girlfriends of the other players. It seems like the only people she really cares about are the ones on Hollywood's A-list and the Galaxy players are D-list."
The source added, "She doesn't seem to have any real interest in talking to them. We thought having the Beckhams here would transform the team's fortunes, but so far it's caused nothing but anger and resentment."
Comments
comments