Ashley Tisdale has been videotaped walking close by an unidentified guy, reportedly her new boyfriend, on Saturday, April 18 in Malibu.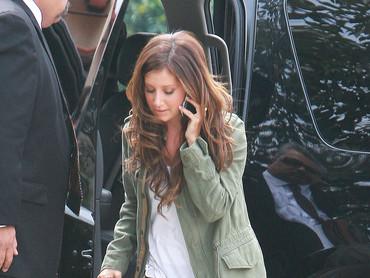 Apparently, previous report of Ashley Tisdale having new boyfriend is proven true as she was seen enjoying an outing with an unidentified guy in Malibu, California on Saturday, April 18. The alleged lovers were videotaped by Hollywood TV having lunch at Gladstone's.
At that time, Ashley was seen wearing a white top paired with short denim. Her male companion, meanwhile, was spotted sporting a blue t-shirt paired with jeans. Ignoring a photographer who followed and asked her some questions, Ashley was caught on camera keeping her body close to the guy's. She even used his body to cover her face from the camera. At one point she held the guy's arm and he, in return, caressed her waist.
Ashley Tisdale had been dating her dancer boyfriend Jared Murillo more than two years when news of their separation was made public by US Weekly on April 10. No record on the cause of their break-up though.
Soon thereafter, a news suggested that Ashley was seen giving a mysterious man a lap dance at the hot club h.wood before reports on her split with Jared surfaced. Her new man reportedly was music video director Scott Speer. Though so, no single word has been made by Ashley about the many news surrounding her love life.
Comments
comments