Beside discussing her favorite food and ideal type of boyfriend, Ashley Tisdale also revealed about the importance of friends in her life.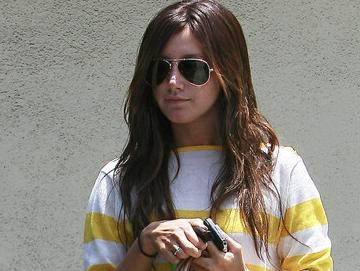 Opening up to the newest issue of OK! Magazine about her soon-to-be-released album "Guilty Pleasure", Ashley Tisdale also addresses some issues concerning her personal life, one of which is about her ideal man. "I'm a big romantic, so I love guys who are romantic too. I think it's important to be with someone that you can be yourself around. I need a guy that I can hang out with in sweats and no makeup and still feel comfortable and beautiful. Someone who's trustworthy," she explains.
And when she is asked to mention her favorite food, Ashley admits, "I love French fries and bread, and when I'm on tour I have McDonald's … At home, I like to cook – I love omelets in the morning." She, however, is quick to add, "Still, I have started working out, so I do try to limit carbs and add protein. I want to build a little muscle."
Still in the same interview, Ashley also sounds off the importance of friends in her life. "It's important to have girlfriends, because guys tend to come and go … I hang out with Miley Cyrus and Vanessa Hudgens a lot and watch chick flicks and I listen to music like Pink's 'So What' and Britney Spears' 'Out From Under.' That helps me move on faster. Miley's a big sweetheart. She's stayed true to herself and hasn't changed for how huge she is. She's always there to listen," the actress-singer reveals.
As for "Guilty Pleasure" itself, which will be made available for purchase in U.S. on June 16, Ashley reveals, "It's edgier and more mature … There's a lot of breakup songs from stuff I experienced." Speaking of a ballad titled "What If," which she wrote with "American Idol" judge Kara DioGuardi, she claims it "is about when you're in a relationship and you say 'If I really needed you, would you actually be there?'"
Ashley Tisdale's full interview with OK! Magazine is featured on its newest issue, which will go on sale on Thursday, May 28.