With her kids' movie "Aliens in the Attic' in wide release this weekend and a brand-new, edgier-than-ever album in stores now, actress/singer Ashley Tisdale is straddling two worlds – and she's perfectly comfortable doing it.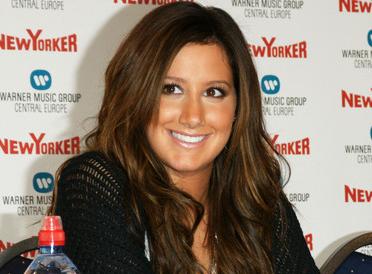 The star talked about letting her career mature while embracing the existing 'High School Musical' audience – and whether kissing Zac Efron was as disgusting as she claimed.
The two halves of your career looks fairly different right now. Your new album 'Guilty Pleasures' sounds more grown-up than anything you've done, and 'Aliens in the Attic' is unmistakably a kid-flick. Are you just doing your own thing?
"I'm doing my thing. I wanted to make an album that I would listen to. I'm 24, so I wanted to make something my friends would enjoy. I feel that it's two separate things, too – with music, you can get away with a lot more. When I was younger, I would listen to Britney Spears' 'Hit Me Baby (One More Time),' when I was 11 or 10, and I had no idea what she was talking about. But I liked it – the music was great, the beat was awesome. Kids don't really read into the lyrics much at a young age. I'm not putting myself out there visually in my album in a way that makes you scared of your kids listening to it.
Movie-wise, that movie was done right before 'High School Musical 3.' At the time, it was the perfect movie to do, because it's a big family movie. It reminds me of a mix between 'Goonies' and 'Home Alone,' two movies I loved when I was young. We had such an amazing cast.
Still, I'm looking at other roles that are a little bit more mature, but I'm not trying to run away from my audience… I want to build more into teen movies, obviously, not just tween things."
In a recent interview, you said that kissing Zac Efron for an episode of 'The Suite Life' on Disney was "disgusting." Really? Disgusting?
"I think disgusting was such a bad word for that; it sounds so dramatic. I was exhausted and it was my last interview before lunch. I'm like – 'Okay, it was not disgusting.' It was just weird and awkward. If I was like, 'Oh yeah, I liked it,' I don't think Vanessa [Hudgens] would like that very much.
Our relationship, it was different from the start. He's a lot younger than me, and he looked even younger when I met him. He was 16, I think, and I was 19. That's a big difference at that age. Now, he looks older than me. He looks definitely good, for sure, but … you always remember when you were young, and how you first met. We're always there for each other.
Sometimes you meet guys that you know you want to be friends with, but then – maybe in the future. With me and him, we've always been really good friends, and it's even better that he's dating my best friend."
Is dating a challenge for you, given that your world is one where paparazzi hang out in trees for hours, just waiting to snap a picture of you?
"Not really. I don't date just to date – I have to really like someone in order to date them. I just don't go for actors. I like kind of having somebody that's in a different side of the business. I like to be with someone who's creative and talented, but I tend to go for somebody who's doing something I'm not doing. Then we have different things to talk about."
Do you ever have those petty moments where you look back people who might not have been the nicest in high school and enjoy that you made it big – and they didn't
"I really don't. I think I'm very grounded. I think I'm someone who's always very grateful for everything that's come my way. I've had to work very hard for it. I haven't just landed here and it just happened. I did have to deal with people in school who didn't ever think I would do something with [acting], or they would joke around and write in my yearbook, 'Oh, see you at the Oscars,' or 'Put my name in your speech' – just being sarcastic, but I never thrive on negativity. I'm a positive person, I always look ahead.
And I'm not a bragging person either. I think I'm very grateful. I'm very normal, I guess."
Comments
comments