Lawyers for the actress/model confirm earlier reports that she and then-boyfriend Jude Law's upcoming baby will be a girl and she will name her Sophia.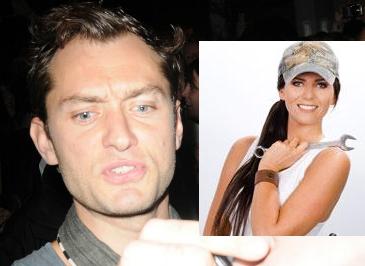 Samantha Burke, the ex-girlfriend of Jude Law who is carrying his baby, has her attorneys issuing a confirmation on the forthcoming infant's sex and name. Additionally, her lawyers also set the record straight on some false claims that have been making their way all over the news media, one of which is about Samantha and Jude's estranged relationship.
Not directly addressing the baby's sex and name, Samantha's lawyers exclusively issue a statement to People that read, "Samantha, her mom, and her family can affirm that Jude has been responsive and supportive throughout the relationship and pregnancy, and know that he will remain so as a father once Baby Sophia is born." The statement then continued, "Jude and Samantha remain committed to the health and well-being of this child, and appreciate your honoring her privacy during this special time."
"This remains a private matter between Jude Law and Samantha Burke," the statement read further, stressing that Samantha won't do any interview regarding her pregnancy despite numerous requests.
And putting to rest flying reports that Samantha's mother, Lea, allegedly said the actress/model was in shock and terrified to inform Jude about her pregnancy and that it was difficult for her to contact him, the lawyers tell People, "comments attributed to Samantha's mother in media stories reported within the last twenty-four hours regarding Jude's contact with Samantha and his involvement were taken out of context."
Jude Law's representative issued a statement to Entertainment Weekly on Wednesday, July 29, that the actor is expecting a baby, which will be his fourth, with an ex-lover. No mention was made about the identity of the mystery lady. It wasn't until the following day that the pregnant women was identified. TMZ claimed exclusively, the questioned woman's name is Samantha Burke, whom Jude allegedly dated when he was shooting "Sherlock Holmes" in New York.
Greater than that, TMZ also obtained Samantha's online registry at Babies "R" Us, which suggested she is expecting a girl she will name Sophia. The registry also listed her due date as October 6, the same date Jude's son Rafferty, whom he has with ex-wife Sadie Frost, will turn 13 years old.