According to Radar Online, Ashley Tisdale has been seen giving a mysterious man a lap dance at the hot club h.wood before reports on her break up with Jared Murillo surface.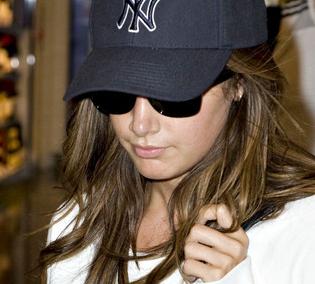 Not yet confirming the flying reports of her breaking up with dancer boyfriend Jared Murillo, Ashley Tisdale reportedly has found a new love in her life. The identity of her alleged new lover hasn't been disclosed though.
Radar Online, which breaks the news, claims in a report on its site that Ashley was seen last week at the hot club h.wood with a mysterious man, "acting very NON Disney" and "dancing sexily around" the guy. The publication, moreover, reports that the 23-year-old actress-singer even gave the man a lap dance before then sitting on his lap. Staying most of the night together, Ashley and the man reportedly left the club together.
Ashley's outing with the mysterious man occurred before reports of her split from Jared were exposed by the media. At time of writing, there hasn't been a single comment made by Ashley concerning Radar Online's report about her new man.
Ashley Tisdale and Jared Murillo, who is a back up dancer, began dating in March 2007. Late last week, US Weekly exclusively reported that both of them have called it quits. "They have not been dating for awhile now. They just grew apart, but are remaining friends," a source told the publication of the pair's not-yet-confirmed break-up.
Comments
comments