Ashley Tisdale, who returned from Salt Lake City, Utah, Saturday, June 28, after completing filming of High School Musical 3, was spotted leaving Chris Mcmillan hair salon in Los Angeles early Sunday morning, June 29.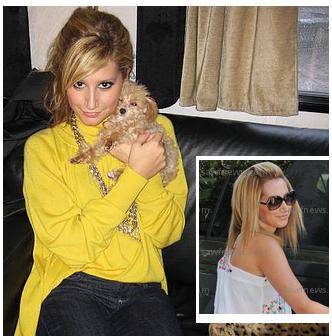 The "High School Musical" star looked hot wearing a white embroidered camisole and daisy dukes. She accessorized with tanned leather high boots, a leather tote bag and shades.
The 22-year-old actress, who was a natural brunette, is sticking to her new blonde-with-brown-highlights hairdo, but appears to have trimmed the length of her hair.
Ashley [Tisdale] attributes her success to a change in her hair color from naturally brunette to blonde with brown highlights!
She revealed, "It suits my personality. I guess I was a brunette with a blonde personality."
HSM 3 is slated for release on TV and in theatres on October 24, and with the film behind her, Ashley plans to focus all her attention on recording her second album.
Ashley Tisdale's first film in a lead role, "They Came From Upstairs", is set for release on February 9, 2009. Directed by John Schultz for Fox, the film tells the story of a group of kids who protect their vacation home from invading aliens.
The actress becomes the spokesgirl for Degree Girls, a brand of antiperspirant for women that is manufactured by Unilever.
On the details of her love life, Ashley Tisdale has been dating her High School Musical dancer Jared Murillo, a Honolulu native, since March 2007. She is reported to have bought him a promise ring at Na Hoku jewelers in LA on May 30, having received one from him earlier.
Comments
comments