There was yet another pop star's welcome for Prince Harry when he dropped in on the Royal Norfolk Show this week.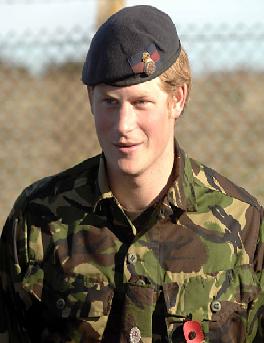 As he toured the agricultural showground and took part in activities such as learning to use a wooden lathe hoards of teenage girls, children and other admirers enthusiastically chanted his name.
A delighted member of staff revealed, "He's so nice with people and very well mannered – and thanks everybody. He's so much like his mother."
The 23-year-old royal paid a three-hour visit to the agricultural event on Wednesday, where he chatted to farmers and inspected prize-winning cattle.
And he seemed particularly taken by an impromptu lesson in woodwork. Lois Beakhouse, who taught the Prince how to make a dibber for creating holes to plant bulbs, said, "He was really very good at it! He was obviously very keen to have a go, and it's the type of craft where people who are keen can learn quickly."
She added, "I told him we sometimes get some of our wood from his dad's woodlands around the country."
The third-in-line to the throne, who at one point swapped his regimental Household Division tie for a fun cartoon animal print version he was presented with, went on to lunch on Norfolk beef and a selection of local cheeses and wines.
General Richard Dannatt, who's also the British Army's Chief of Staff, said, "It's fantastic to have him here. He's a very good soldier and a good chap."
The Prince's visit marked the centenary of the granting of the Royal Charter to the Royal Norfolk Agricultural Association, which organizes the show.
Comments
comments