Aubrey O'Day's nude picture for the March 2009 issue of Playboy has been leaked. Perez Hilton is the first to give people a peek at the shot, showing the former Danity Kane member baring all for the camera.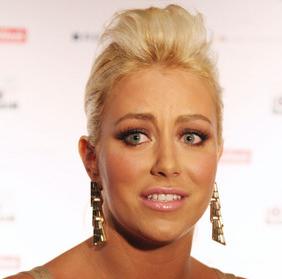 Aubrey, seen in the pic letting loose her long blonde hair, is photographed wearing nothing, but a pair of high heels. She strikes a raunchy pose on a black-and-white striped carpet, sporting fishnet-like stuff on her bare bottom.
After weeks of chatter and speculation, Aubrey O'Day confirmed to US Weekly last week that she has done a photo shoot session for Playboy.
She revealed in a statement, adding that she looks forward for the launch of her March Playboy cover on February 13: "I'm honored to be a part of the Playboy legacy. and look forward to my March cover. I directed and produced the shoot, I'm really proud of that… I'm just excited to have shot and produced the shoot myself."
She continued: "We actually shot it in July."
For the pictorial, she added that she wears "red ruby slippers and not much else."
According to a report in late November last year, Aubrey was seen doing a nude photo shoot for Playboy with celebrity photographer Markus Klinko in a Manhattan photo studio. The site, moreover, also claimed "there may be cats involved in the shoot."
New York's Daily News, furthermore, reported that Aubrey has received half a million dollars to shed her clothes for the men's magazine. "Aubrey's making about $500,000 to drop trou. For that kind of money, she was like 'Why not?'" the site cited a source as saying.
Comments
comments