Authorities have asked for the public's help in identifying two suspects believed to be involved in the attempted burglary of Lindsay Lohan's home.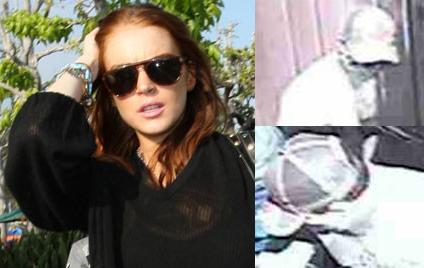 "On May 12, 2009, a pair of burglars attempted to break into a home in the Hollywood Hills during broad daylight and their images were caught on surveillance video. The Los Angeles Police Department is asking for the public's help in locating those suspects as well as the vehicle," a spokesperson for the LAPD said in a released statement.
The spokesperson said surveillance photos captured a second person in a four-door gray Dodge Magnum station wagon "with paper plates and custom wheels parked in front of the home."
Story continues below ↓advertisement | your ad here
Two passengers in the vehicle exited the car and "walked through a gate and entered the backyard of the residence," police said in a statement to Access.
"Investigators believed that the suspect tried to gain entry by using an unknown type tool to pry open a back window and door. After the unsuccessful attempt, the suspects drove off," the statement continued.
One suspect covered his face with a bandana. He was also wearing a "two-tone baseball cap with an emblem," authorities said in their statement of Access.
No details were available about the driver of the vehicle.
As previously reported on AccessHollywood.com, Lohan's home showed "evidence" of a break-in on Tuesday, authorities said.
Signs of tampering appeared at a rear window and a rear door.
Initial reports from authorities suggested that the home appeared ransacked, but later a police officer told the Associated Press that no one entered the home.
The state of the home prompted them to ask, "Is it normally like this, or did the intruder do it?" officer Karen Rayner told the AP.
Nothing was missing from the home.
Anyone with information about the attempted burglary or suspects is being asked to call Hollywood Burglary Detectives at (213) 972-2930.
Comments
comments