Barack Obama and Hillary Rodham Clinton sought Friday to turn the page on their bitter, history-making fight for the Democratic presidential nomination, declaring the next chapter is about beating Republican John McCain.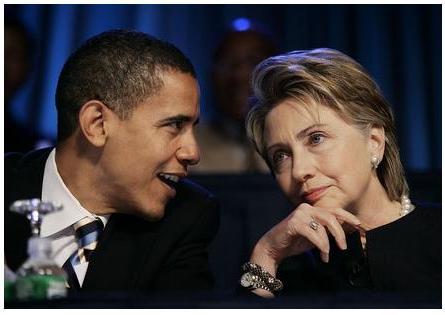 Choosing a small New Hampshire community aptly named Unity for their first joint appearance since the campaign ended, Barack Obama and Hillary Clinton stood on a platform before thousands of cheering, shouting supporters and took turns praising each other and urging party solidarity. She called the nominee-in-waiting a standup guy and he declared: "She rocks. She rocks."
They came together in this hamlet where each won 107 votes in January's primary. Body language rivaled campaign rhetoric as attention-getter of the day. And a pair rendered distant by a marathon campaign acted like teammates, alternately exhorting the rank-and-file to put any recriminations behind them.
Hillary Clinton noted that they had stood "toe to toe" against each other in a primary season fight that began almost two years ago and declared the time has come to "stand shoulder to shoulder" against the GOP. They seemed equally determined to regain a White House that their party hasn't seen since her husband, President Clinton, left at the start of 2001.
Hillary Clinton revealed, "To anyone who voted for me and is now considering not voting or voting for Sen. (John) McCain, I strongly urge you to reconsider to create an unstoppable force for change we can all believe in."
In turn, Barack Obama praised both Clinton and her husband as allies and pillars of the Democratic Party. He revealed, "We need them. We need them badly. Not just my campaign, but the American people need their service and their vision and their wisdom in the months and years to come because that's how we're going to bring about unity in the Democratic Party. And that's how we're going to bring about unity in America."
Moments earlier, the two snaked their way through some 6,000 people who gathered in a wide-open field and overflowed some bleacher seats in this town of 1,700.
Barack Obama is seeking to become the country's first black president; Clinton had sought to become the first woman to win the White House.
The reunification of these campaign rivals wasn't without its awkward moments.
Despite the praise and smiles between the two, some in the crowd still sensed a space between them. Their embraces were slightly awkward, and Clinton stood with her hands clasped formally in front of her as Obama spoke.
Eileen Quill, a 64-year-old retired teacher from nearby Sunapee who had supported Clinton, said: "I think she's usually a wonderful public speaker, and so is he, but she looked a little stiff and the whole thing wasn't entirely comfortable."
Aides said the atmosphere on the bus from the airport to the rally was "festive," but said the two avoided talking about the campaign for the 90-minute ride. As they and their staffs ate a lunch of sandwiches and salads, Obama and Clinton made small talk, at one point commiserating and comparing stories about how difficult it is to live life under a microscope, as public figures do.
Friday's joint appearance capped a turbulent Democratic primary season and tense post-race transition as the two went from foes to friends — at least publicly. This was the most visible event in a series of gestures the two senators have made over the past week to heal the hard feelings — between themselves as well as among their backers.
"Unity is not only a beautiful place as we can see, it's a wonderful feeling, isn't it? And I know when we start here in this field in Unity, we'll end on the steps of the Capitol when Barack Obama takes the oath of office as our next president," Clinton said from a podium as Obama sat next to her on a stool, coatless with his white shirt sleeves rolled up. She wore a powder blue pantsuit; he wore a light blue tie.
Wasting little time pressing Obama's case, Clinton noted that McCain and the GOP probably hoped she wouldn't join forces with Obama. Hillary Clinton said, "But I've got news for them: We are one party; we are one America, and we are not going to rest until we take back our country and put it once again on the path to peace, prosperity and progress in the 21st century."
Echoing Obama's pitch, Clinton said McCain offered nothing more than a continuation of President Bush's policies. Hillary Clinton added, "In the end, Sen. McCain and President Bush are like two sides of the same coin, and it doesn't amount to a whole lot of change. If you think we need a new course, a new agenda, then vote for Barack Obama and you will get the change that you need and deserve."
Obama added, "I've admired her as a leader, I've learned from her as a candidate. She rocks. She rocks. That's the point I'm trying to make. I know firsthand how good she is, how tough she is, how passionate she is, how committed she is the causes that brought all of us here today."
Comments
comments