The lines continue to blur between political coverage and celebrity gossip. Barack Obama and family grace the front cover of OK! Magazine this week, while Sarah Palin and baby son Trig are on the back.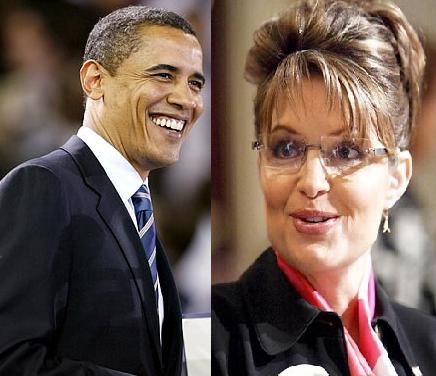 For the first time, the weekly magazine decided to do a double cover that serves as a further proof that this election is as much about celebrity status as it is politics.
Barack Obama made it on the front cover of the magazine along with his inspiration: his wife and two daughters. The magazine also indicates a inspiring caption: "Life With My Girls – Harry Potter at bedtime, first row at dance recitals, and what he really like as a dad"
On the back cover, Sarah Palin posed with his son Trig with an interesting caption: A Mother's Painful Choice, which gave clue to on how she is going to deal her 'baby scandal'.
Sarah Ivens, who is the editor-in-chief of Ok! magazine, revealed: "Politics and the future of America are certainly on everyone's minds. So OK! decided to try something different this week, giving readers two covers and two interesting features on candidates from both parties. It's a special edition, something we've never done before, and we hope they enjoy."
Interestingly, OK!'s Barack Obama and Sarah Palin content doesn't have any of the gossip or naughtiness often found in a piece about a Hollywood A-lister. Instead, both pieces are largely biographical, and rely on family friends for sources regarding strong political candidates.
That's not a clear sign that the political candidates are immune to the standard celebrity treatment. Sarah Palin is also on the cover of this week's Us Weekly magazine. Among the blunt cover lines on Us: "Mom of five: new embarrassing surprises," "Under Attack: admits daughter, 17, is pregnant," and "Investigated for firing of sister's ex-husband."
When it comes to the situation of Sarah Palin and her expectant daughter, a fellow teen mom is reaching out to them. A source, which is close to Beverly Hills baby store Petit Tresor, revealed that a member of the Spears family sent Bristol Palin a gift on behalf of Jamie Lynn, adding: "It was ordered by phone, and they asked what could be done for under $100. They spent $60 on pink burpcloths."
Comments
comments