Miley Cyrus, who was recently spotted as she went to a church with her family, has a new song "Seven Things" that is believed the singer-actress must be thinking of Nick Jonas.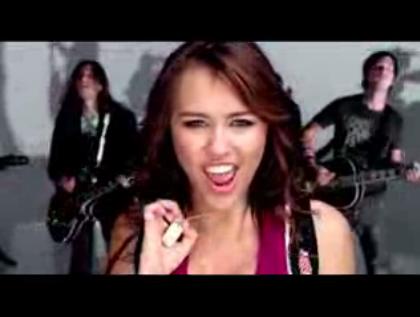 Despite its peppy beat and catchy pop hook, Miley Cyrus' "7 Things" was inspired by heartache. The sample lyric includes: "Your friends, they're jerks/ When you act like them, just know it hurts." And that's just one of the seven things she "hates" about her unnamed ex.
Brett Ratner, who directed the video, revealed that prior to solidifying the video's concept, he visited the singer's house and was shown "all of her personal items from under her bed that her ex-boyfriend gave her." (Among the mementos: "Dirty socks and a bunch of photographs.")
And although he never mentioned Miley Cyrus' most famous ex, Nick Jonas, by name – the director does drop one major hint: a necklace.
The director explained: "The necklace she's wearing in the video is the necklace [the boy] gave her," Ratner told MTV. "She's wearing his diabetes or medical necklace."
Nick Jonas, who split with Miley Cyrus in late 2007 after two years of dating, has Type 1 diabetes and he is also known as a spokesperson for awareness of the disease.
Back in July, Jonas insisted that the song couldn't be about him. The singer defended: "My friends aren't jerks."
For her part, the 15-year-old Miley Cyrus recently revealed that much of her record is about past relationships, saying: "Most of my songs are for the girls who hate their current or ex-boyfriends."
Brett Ratner concluded: "You can tell by the lyrics that they're very personal. The stuff she talks about in the video is clever and emotional and fun at the same time."
Comments
comments