Sarah Ferguson, who was the Duchess, was enjoying a little end-of-summer time with her daughters before they all go their own ways this autumn. Joining them was Beatrice's American boyfriend Dave Clark.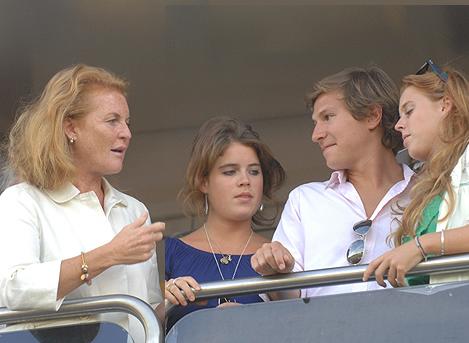 Princess Eugenie and her elder sister Princess Beatrice have an especially close relationship with their mum Sarah Ferguson, and despite having embarked upon their own paths in life are frequently spotted sharing time with her.
This summer was no exception, with the trio making the most of a recent trip to Spain together before they each go their separate ways later this month – Eugenie on her gap year, Beatrice starting a degree in history at the University of London.
The happy group had much to celebrate on their visit to the private resort of Sotogrande in southern Spain. Eighteen-year-old Eugenie recently received top grades of two As and a B in her A levels, while her big sister has just celebrated her 20th birthday.
Sarah Ferguson, whose late mother Susan Barrantes was a polo aficionado, presents the winning team with its trophy at the end of an action-packed day
Now a recognized polo destination, Sotogrande features five fields and an internationally acclaimed club. And on the agenda for the Duchess and her girls was a day spent watching the action and presenting prizes at a polo final.
Joining them was Beatrice's American boyfriend Dave Clark, who works for the Virgin Group.
Comments
comments