Presidential candidate Barack Obama has appeared in the cover of the iconic magazine Rolling Stone is an honor most celebrities hope to achieve just once in their career.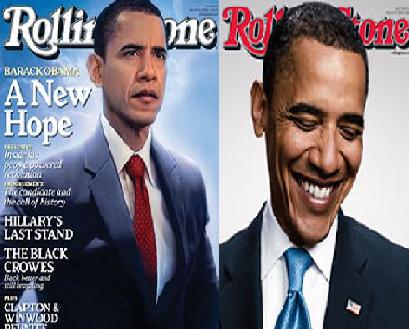 The Illinois senator appears on the front of the latest issue of the American pop culture bible, which unusually bears no headline. The latest issue depicts the Democratic presidential hopeful with his eyes closed and a happy smile on his face.
In an accompanying interview Mr. Obama revealed that his ego has been brought down a peg or two with age, and that his self-described "steady temper" is a result of getting to know what makes him tick. He said, "I've discovered that I don't get a lot of satisfaction from being the centre of attention, but I do get satisfaction from getting work done."
The Democratic nominee also unveiled an eclectic taste in music when running the magazine through the playlist on his MP3 player. Rapper Jay Z, singer Cheryl Crow and Elton John, plus jazz greats like Miles Davis, are all among artists he listens to while on the campaign trail. He also told the mag he is thrilled to have received the support of musicians such as Bob Dylan and Bruce Springsteen.
The last time he appeared on the front of the popular culture bible was in March, when it gave him its backing for president, saying he had "emerged by displaying precisely the kind of character and judgment we need in a president: renouncing the politics of fear, speaking frankly on the most pressing issues facing the country and sticking to his principles".
Meanwhile, a handful of Latino musicians, actors and celebrities are urging their fans to support Democratic U.S. presidential candidate Barack Obama. The Latino celebrities are becoming involved in the 2008 White House race to an unprecedented degree this year. The Pew Hispanic Center reports 18.2 million Latinos are eligible to vote.
The celebrities are able to reach easily the 7.3 million Hispanics under 35, the newspaper said.
Latino superstars such as Juanes, the Colombian rocker, and Los Tigres del Norte from Mexico are urging fans at their concerts to register to vote, while Dominican merengue legend Juan Luis Guerra and Mexican rockers Mana played a benefit concert in Miami in March to benefit a national campaign to increase citizenship and voter registration among Hispanics.
There has been no reported groundswell of support among Latino stars for Republican nominee John McCain. But just because voters like a group's music doesn't mean they will follow their political recommendations, analysts say. The independents are not going to be swayed by videos chanting Obama. They're going to be swayed by the issues, said Tico Perez, an Orlando political commentator.
Comments
comments