Democratic presidential candidate Barack Obama is trying to woo sports fans to his side, according to the political observers.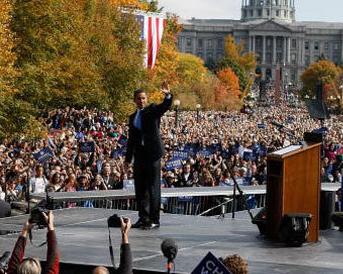 Although Republican vice presidential hopeful Sarah Palin dropped the ceremonial first puck at the Philadelphia Flyers' season opener, the last ad before the game was broadcast on Comcast Sports Net there was a 60-second spot about Democrat Barack Obama's patriotism.
On Wednesday, Mr. Obama will delay the start of the possible World Series Game 6 to air a 30-minute infomercial, which is arguably his most aggressive pitch through sports media.
Evan Tracey of the Campaign Media Analysis Group, which tracks political advertising, revealed:
"Obama is targeting so much sports programming because it trends very much to younger white males, which has been a reliable Republican bloc but is also very much an independent voting bloc," said .
Evan Tracey added that Mr. Obama is targeting Republican presidential nominee John McCain's "strength" by targeting young white males. In addition to targeting sports fans, Mr. Obama has bought image space in video games and has his own satellite-television channel.
Meanwhile, Barack Obama drew a crowd of over 100,000 at a rally in Denver on Sunday. The Obama campaign released an initial crowd estimate of 75,000 people. That was later upgraded to "well over" 100,00 people, a tally confirmed by a Denver police spokesman.
The setting, on a sparkling day in this battleground state, said perhaps more than Obama did in his actual speech. His campaign is capitalizing on the scope of such rallies to get people to cast votes early, permitted in Colorado and more than two dozen other states.
Comments
comments