Former Baywatch star Gena Lee Nolin and her husband, NHL hockey player Cale Hulse, have welcomed a girl, according to her representative.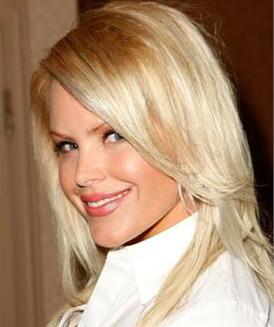 Stella Monroe Hulse was born Wednesday in Scottsdale, Ariz., and weighed 7 lbs. 3 oz. and was 20 1/2 inches long.
Jerry Shandrew, the representative of Gena Lee Nolin, revealed: "Mom and baby are both healthy and doing very well. The whole family is very excited to welcome baby Stella home".
This is the second child for the couple, who welcomed son Hudson in April 2006. Nolin also has an 11-year-old son, Spencer, from her first marriage to video producer Greg Fahlman, and Hulse has a daughter, Caia, 7, from a previous relationship.
The 37-year-old sexy star, which starred as Neely Capshaw on Baywatch and appeared on the TV series Sheena. She married Hulse in September, 2004, after they met on a blind date.
Gena Lee Nolin revealed: "My children teach me to slow down and enjoy life. My children are the reason I laugh, smile and want to get up every morning."
Comments
comments