Beyonce Knowles, who attended Fashion Rocks, was spotted wearing an 18 carat rock that indicates her beau Jay-Z knew how to pick the right bling.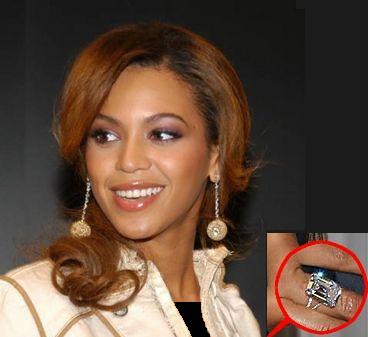 For the first time, the "Bootylicious" singer publicly displayed her engagement ring on the red carpet for Fashion Rocks at Radio City Music Hall in N.Y.C.
The singer, 27, who secretly married rapper Jay-Z in April, flashed an 18 carat flawless diamond by Lorraine Schwartz, valued at more than $5 million dollars, according to the jeweler.
Neither Beyoncé nor Jay-Z have publicly confirmed their marriage but in recent weeks, Beyoncé's younger sister Solange referred to Jay-Z as her brother-in-law during a television interview.
Later in the evening, Beyoncé took off the ring for a duet with Justin Timberlake, but the sparkler was visible when she donned a short, blonde wig to sing a tribute to blues singer Etta James whom she portrays in an upcoming movie.
The star-studded event included appearances by Miley Cyrus, Rihanna, Mary J. Blige, Tommy Hilfiger, Hayden Panettiere, Paula Abdul, Fergie, Ciara, Natasha Bedingfield, Chris Brown, Terrance Howard and Chace Crawford.
Comments
comments