Beyonce Knowles, who was previously hit the engagement speculations with Jay-Z, has hit the headlines with her new advertisement.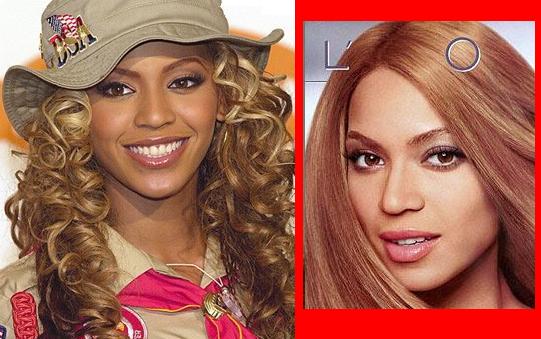 The beauty giant L'Oréal has been accused of "whitewashing" the complexion of Beyoncé Knowles in an advertisement for a haircare product.
The 27-year-old singer seems to have a lighter skin tone than usual in a headshot. The advertisement aims to promote the Féria highlighting product.
The actress and singer, whose father is African American and whose mother is Creole has a contract with L'Oréal worth £2.3 million over five years.
The picture, which appeared in the latest US edition of Elle magazine, provoked outrage on both sides of the Atlantic after commentators suggested the firm had digitally lightened Knowles's complexion.
In a piece called "Beyoncé the Pale", the New York Post called the advert 'shocking' and said the world-famous singer was "virtually unrecognizable".
A celebrity website branded the controversial shot as 'severely photo shopped'. A fan wrote: "Shame on L'Oréal for doing this. I see no excuse for this. If it was uneven skin tone then they just as easily could have made her a tone darker. But they did not do that. They made her white."
A L'Oréal spokesman denied Beyonce Knowles's complexion had been digitally altered.
He revealed: "Beyoncé Knowles has been a spokesperson for the L'Oréal Paris brand since 2001. We highly value our relationship with Ms Knowles. It is categorically untrue that L'Oréal Paris altered Ms Knowles's features or skin-tone in the campaign for Féria hair color."
A representative for Beyonce Knowles declined to comment beyond the firm's statement.
Comments
comments