Beyoncé Knowles accidentally revealed her secret weapon to keep her bootylicious behind in top shape – a giant pair of "Bridget Jones" control pants.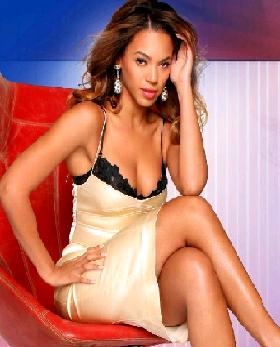 The "Irreplaceable" singer was in the middle of an energetic dance routine when her thigh-skimming silver dress flicked up and revealed more than expected.
The singer, who was performing in Shanghai as part of her world tour, has appeared to abandon the skimpy underwear in favor of oversized pants that keep wobbly bits under wraps. You could see Beyoncé Knowles' secret here.
The Grammy Award winner has regularly spoken of the constant battle to keep her weight under control, admitting she loves indulging in fried chicken and treats.
Last year, Beyoncé Knowles lost 20lbs on a liquid diet for her role in the film "Dreamgirls", but quickly put it all back on again.
She revealed, "I would not recommend it if someone wasn't doing a movie, because there are other ways to lose weight. But I needed to lose it really quick, and I put the weight back on as soon as I finished, so I am no smaller or bigger than I've always been. It was strictly for the movie."
She admitted she was relieved when her liquid-diet days were over, and enjoyed getting her curves back, adding, "The funniest part was putting the weight back on and eating my doughnuts and all the other things. So now I'm back to my body. I'm very conscious of being a curvy woman and I'm very happy that I am a curvy woman."
Comments
comments