Billy Ray Cyrus has spoken out for the first time about daughter Miley Cyrus' provocative performance that included the teen singer dancing around a pole at the Teen Choice Awards earlier this month.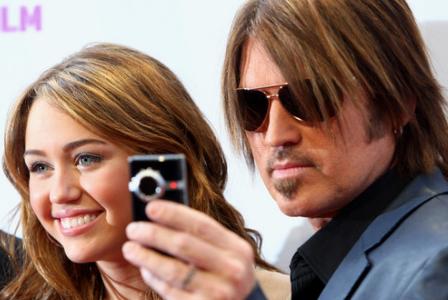 At the August 10 event, while singing her hit song, "Party In The USA," Billy Ray's 16-year-old daughter jumped on top of an ice cream cart, pushed by her back up dancers. While performing the song, Miley crouched and danced next to a metal pole attached to the top of the cart, which attracted a host of criticisms across the Web.
When asked about headlines that suggested the teen got a little ahead of her age by dancing with the metal pole, Billy Ray — who Access Hollywood caught up with at the Hellmans/Facebook Feeding America Event in NYC on Thursday — said Miley remains focused on "entertaining."
"You know what? I just think that Miley loves entertaining people," Billy Ray said. "She loves singing [and] songwriting."
And while some might have taken exception to Miley's performance, her father encouraged her to block out the negative comments.
"I always tell her to love what you're doing and stay focused for the love of the art and not worry so much about opinion," he added.
It's worth noting that Billy's youngest daughter, Noah, 9, is also acquainted with stripper poles.
Comments
comments