Kate Middleton is to be assigned her own bodyguards in the clearest indication yet that her engagement to Prince William is to be announced imminently, it was reported today.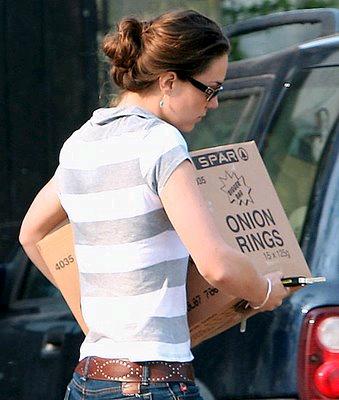 The 26-year-old brunette beauty only had round-the-clock protection when she was with Prince William. But under special arrangements being made ready by Scotland Yard, she will be guarded 24 hours a day in her own right.
According to a report, the important moves are being made behind the scenes to assimilate Kate Middleton further into the royal household.
In the first significant indicator of an impending change in Kate's status, Scotland Yard is planning a new protection detail that could be implemented at short notice.
An experienced chief inspector, John Hourihan, has been found to manage a Kate and Wills "team" made up of four bodyguard officers for each of them. The officers will be hand-picked and highly trained in marksmanship, close protection duties – including emergency first aid – and the essential diplomatic skills. The teams would each work under an inspector with Chief Inspector Hourihan leading protection operations. He is known as an officer of immense experience and also noted for his charm and discretion.
According to the informed sources, the preparations now being made for Kate mirror those laid out just before Prince Charles announced his engagement to Lady Diana Spencer.
Another chief inspector, Graham Smith, was immediately named as head of her bodyguard team and all the preparations had been made in secrecy several months before.
The need for Kate Middleton to have her own protection was highlighted on her birthday last year when she walked out of her Chelsea flat and was ambushed by dozens of photographers. There were questions in Parliament and calls for her to have a police guard. But nothing could be done because, officially, she was simply Prince William's girlfriend.
Rumors of an engagement have also been fueled by intense activity in recent weeks on the Harewood Estate near Ross-on-Wye, a property acquired by Prince Charles's Duchy of Cornwall in 2000 which, it is believed, has been earmarked as a possible home for William and his bride.
Clarence House has refused to answer questions about the house and its future role, but some have read significance into the fact that work there has gathered pace.
And it seems the public would also welcome news of an engagement as a recent Discovery TV channel poll found that more than half of Britons believe Kate Middleton would be an asset to the Royal Family.
Meanwhile, Prince William has new marching orders for a four-month stint with the Royal Air Force, having finished his tour of duty in the Army. After the training, he'll get naval training as the future head of Britain's armed forces. It would add to a solid military engagement this year for the prince but, so far, no romantic one.
As for her girlfriend Kate Middleton, the observers royals watcher Katie Nicholl, revealed, "I think you might see a nice pair of earrings, but I would be surprised if you'd see a ring. I really would."
Comments
comments