Salma Hayek, who was a new mom to Valentina Paloma Pinault, has been chosen to be the spokeswoman for the "One PackOne Vaccine" program.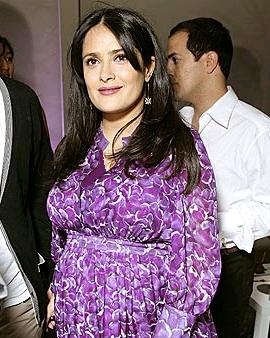 The program will provide tetanus shots for needy mothers and their infants in Africa and Asia. For every pack of Pampers diapers sold in the United States and Canada between April 1 and June 30, the company will donate funding to UNICEF for one maternal or neonatal tetanus vaccine.
The 41-year-old actress revealed in a statement last Wednesday, "In our own small way, this is an opportunity for moms like me here in North America to help other mothers on a global level."
The Pampers-UNICEF partnership has already provided more than 25 million vaccines to moms and babies in developing countries, where tetanus kills 140,000 infants and 30,000 women each year, according to UNICEF.