A new still of Brad Pitt in his upcoming WWII flick "Inglorious Basterds", out August 21.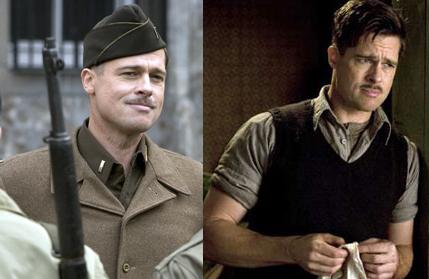 According to the report, Brad's Lt. Aldo Raine role heads a group of eight Jewish soldiers (two of whom are German-born) spreading terror among the enemy in Nazi-occupied France. Their tactics, given the filmmaker's soft spot for sadism, aren't exactly subtle.
"Their mission is to psychologically beat the Germans by desecrating and butchering their bodies, taking their scalps, disemboweling them, and always leaving one soldier alive to tell the story," director Quentin Tarantino says.
Lest the Basterds be labeled one-trick ponies, the outfit is then given its impossible mission: to blast the Paris movie theater hosting the premiere of the latest propaganda film by Nazi spin doctor Joseph Goebbels.
Tarantino had tried to write the movie for years, and found himself mired in history books that only confused his plotting. "The problem with doing World War II research is that it can derail you, because there are too many great stories, too many good ideas to go around."
Tarantino hopes that his movie is not nearly as somber as the most recent round of World War II films — including "Defiance," "Valkyrie" and "Flags of Our Fathers." Instead, he's hoping "Inglourious Basterds" has some of the wit and looseness of movies about the war made during the war, like 1943's "This Land Is Mine" and 1941's "Man Hunt."
"This isn't," Tarantino says, "antiwar misery."
Comments
comments