Vanessa Hudgens talked about her first kiss in an interview.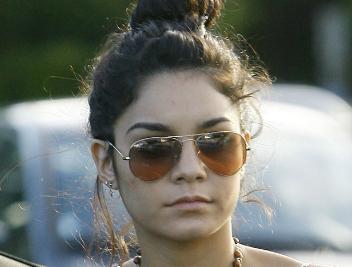 "My first real kiss was, I was 15," she admitted. "Just bad, just bad news. Not good. You don't know what's going on, and it's so awkward, and (yech) just horrible."
Before that she had an almost-been-kissed-moment in fifth grade.
"My first almost kiss was bizarre. It was in fifth grade and it was a dare. They dared me to make out with my … I called him my boyfriend at the time … and they wanted us to make out and I was deathly afraid. I was wearing a retainer and they're like, "You should take your retainer out," Actually I chickened out … I never did it. I guess I'm not one for peer pressure."
How about onscreen kisses now in her new movie "Bandslam?" Is she comfortable with kissing for the cameras?
"As comfortable as I think I can be. It's such a weird thing because everyone is staring at you and it's just awkward … but hey, it's OK. It's for the love of our movie."
And how old was she when she took her first cellphone nude photos? Sorry. We didn't ask that. But we really wanted to.
Gaelan Connell is her new kissing partner in her new film "Bandslam."
"He's a good kisser," she says with a smile. "I think we were both actually eating peanut butter before we had to kiss."
Were there any kissing bloopers and/or outtakes?
"Yeah," she admits. I think that every time that me and Gaelan have to kiss on screen, as soon as it finished we'd be like, "Blahhhh!"
Comments
comments