He may be more famous for his love life than his film career, but Brad Pitt is rapidly gaining a reputation as a serious pot smoker too.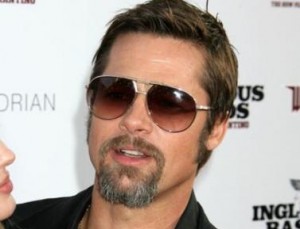 The father of six admitted that he only gave up smoking cannabis when he became a father a few years ago.
During an interview on US chat show Real Time, Pitt also joked that he was 'an artist' when it came to rolling joints.
Pitt, 45, was chatting to host Bill Maher about his latest film, Inglourious Basterds, when Maher brought up his role as a pot smoker in True Romance.
Maher said Pitt seemed 'right at home' playing a complete stoner.
"I certainly had my day. Now it kind of turns me into a doughnut," Pitt replied.
Then the actor, who has six children with his partner Angelina Jolie, admitted he only quit smoking pot when he became a father.
"I'm a dad now. You want to be alert and my eyes used to glaze over when I did that," he revealed.
Earlier this month, Pitt spoke about his penchant for pot in an interview with Parade magazine.
But the actor said he had stopped smoking when his habit began affecting his acting career.
'I liked to smoke a bit of grass at the time, and I became very sheltered. Then I got bored,' he told the magazine.
'I was turning into a damn doughnut, really. So I moved as far away from that as I could. I was done.'
But during his interview on Real Time it became obvious that Pitt had continued smoking cannabis until fairly recently.
Maher mentioned a party that he had been to some years ago with Pitt. He told the audience that Pitt 'rolled the most perfect joints' he had ever seen.
'I'm an artist,' Pitt joked in response.
Pitt and his partner Jolie, 34, have six children; Maddox, 7, Pax, 5, Zahara, 4, Shiloh, 3, and twins Knox and Vivienne, 1.
Shiloh and the twins are their natural children while the older boys are adopted.
Pitt has been busy promoting his latest film, the Quentin Tarantino-directed Inglourious Basterds.
In the film, Pitt plays a Nazi-hunting US soldier who kill and scalps members of the Third Reich.
Comments
comments