Brad Pitt and Angelina Jolie showed heroes' gestures after rescuing an eight-year-old boy crushed by autograph hunters at the Santa Barbara Film Festival.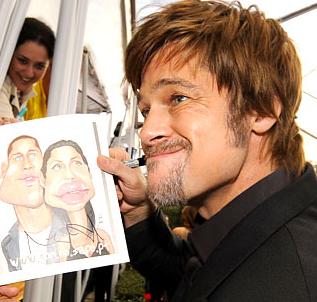 A surging crowd of star-struck fans trapped the young Brangelina fan Seth Mascareno as the couple arrived at the California festival, where Angelina Jolie was honored with the Performance Of The Year award.
The celebrity couple spotted the kid squashed against a metal railing and lifted him to safety.
The boy's mother Adeline revealed, "The crush of people was just overwhelming. Angelina and Brad rushed over and she helped pull Seth under the barricade while Brad yelled for the crowd to back up.
The boy's mother added, "Then Angelina took Seth aside to make sure he was unharmed. When she was sure he was all right, she signed a Tomb Raider photo he was carrying. She stroked Seth's hair and said: 'There, there sweetheart, you're OK now.'"
Comments
comments