Britney Spears landed in the cover of the new issue of Rolling Stone with its line: "Britney Spears Inside An American Tragedy".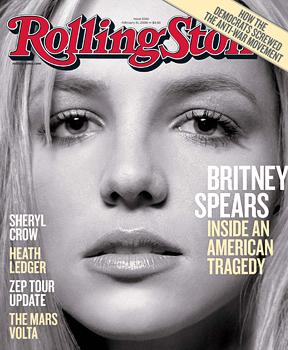 The magazine offers some insight into what has lead to Britney Spears' downward spiral. Some are the revelations in the magazine:
• As a teen, the singer's mother, Lynne, allowed her to get breast implants. But after going under the knife, "She regretted the implants, particularly because her chest was still growing. When her natural breasts became larger, she had the implants removed. When other girls did their boobs [they admitted it] and moved on, but Britney was brought up to lie about herself," according to her friend.
• The singer never bonded with her father Jamie, mostly because of his heavy drinking.
• When Britney was just beginning her career in the 1990s, she was bribed to work around the clock.
• Throughout her career, she lobbied " to appear sl*ttier," to appear more mature, according to a magazine claim. A friend revealed, "Every girl in America was wearing crop tops and booty shorts, and Britney felt like she was being held back. She would joke about wanting to do videos topless."
• Darrin Henson, a choreographer, said, "Britney would come offstage after performing in front of 15 to 16,000 people and start crying because she thought she was terrible. The girl doesn't know who she is."
• She reportedly began sleeping with Wade Robson around the time of the 2001 VMAs. "In February 2002, Timberlake discovered a … note from Robson in Britney's room. Britney and Timberlake were performing on "Saturday Night Live" that night, and they sat backstage miserable — he refused to accept her apologies. The breakup was a terrible shock, particularly as it was followed by Britney's parents divorce two months later," according to an insider.
• Britney's 2002 split from Justin Timberlake devastated her. "Justin had his head screwed on so straight… He became the great force in her life, but it started a pattern — she began to look for guys to help her get away from the people who could control her," an insider says.
• Sam Lutfi revealed that he may pen a book based on his troubled days with the singer, saying, "You know, this is so much more than a magazine article — we've been doing dictation, she's been telling me her story, and I've been writing it all down. It would make a great book!"
Meanwhile, Britney Spears was released after a week of treatment at the UCLA Medical Center. After her release, the troubled pop singer was spotted driving around. She appeared happy and was seen smoking cigarettes, according to the witnesses' claim.
She was also seen smiling as she arrived at the Beverly Hills Hotel. She was wearing a short purple dress and a plaid fedora.
A private security detail escorted the singer from the hospital around noon. UCLA Medical Center Media liaison Mark Wheeler revealed that the hospital will "absolutely not" confirm or deny that Spears was released. Wheeler said the hospital has no plans to release a statement at this time due to patient confidentiality laws.
A law enforcement source said that UCLA released her "because she was no longer required to stay there after 11:30 AM" and that she was no longer deemed a threat to herself or others. Britney Spears was involuntarily committed to treatment for bipolar disorder on January 31 and was expected to remain hospitalized for another 10 days.
Comments
comments