Robert Pattinson and Kristen Stewart seem to be taking cues from another on and offscreen pair, Brad Pitt and Angelina Jolie, suggests OK! Magazine this week as they work coverage of Robert and Kristen towards Brangelina.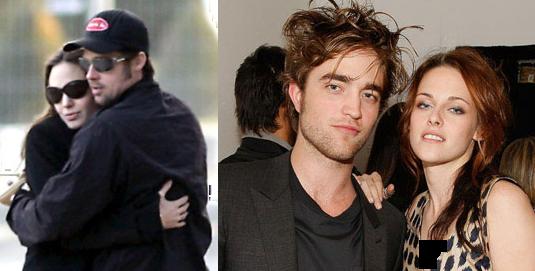 Is it a Mr. and Mrs. Smith love story redux? The good news is that if that is what is happening, neither are married so we won't have Jennifer Aniston getting the shaft on the deal.
OK offers this from this week's entertainment and celebrity magazine, "Other that a staged near-kiss at the MTV Movie Awards, Pattinson and Stewart were careful not to appear too touchy-feely at the event.
The report adds that though "Stewart hung on costar Taylor Lautner's shoulder but was all business next to her onscreen beau – not unlike Brangelina during promos for Mr. & Mrs. Smith. the 2005 movie that sparked their romance."
The mag then claims that Pitt even gave Pattinson some heartthrob to heartthrob advice in Cannes last month, including a recommendation on keeping a low profile in NYC. "Brad suggested the Waldorf -Astoria," a friend of Pattinson tells OK! "because it is very private." And a favorite of the Jolie-Pitts!
Comments
comments