It normally comes in a five-metre strip wrapped round a cardboard roll but there can't be many men who wouldn't prefer to have their kitchen foil dished out on a curvy Jennifer Aniston style dispenser.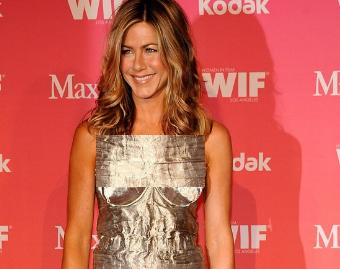 The 40-year-old actress's Prada dress drew inevitable comparisons with the kitchen accessory when she stepped out on the red carpet in LA at the weekend.
While she clearly looked gorgeous, the fashionistas couldn't resist having a pop at her silver look. One said: "Jennifer normally gets it so right so it was a surprise to see her like this. Her legs looked stunning but the dress looked like a piece of sheet metal."
Miss Aniston was picking up a gong at the 2009 Women in Film Crystal and Lucy Awards for helping expand the visibility of women in film.
She joked that her love life was mirroring her choice of film far too closely.
Miss Aniston said: "There seems to be a strange parallel between the movies I'm doing and my life off-screen. It started with The Good Girl, then of course Rumor Has It, followed by Derailed. Then there was The Break Up. If any of you have a project entitled Everlasting Love With A Stable Adult Male I'm at table six and my agents are at table twelve!"
Miss Aniston, whose seemingly fairytale romance with Brad Pitt ended in divorce, has had a series of high-profile relationships – and splits.
Her most recent dalliance, with musician John Mayer, ended in April amid reports he was more interested in Twitter than her.
Since then, rumors have been circulating that Jennifer has been growing close to Brad Pitt again.
Last month, it was claimed that the pair had been meeting up the pair have been meeting secretly in New York, with Brad wearing his motorbike helmet as a disguise.
The former couple are said to speak to each other almost every day as Brad leans on Jennifer for support amid speculation that his relationship with Angelina Jolie is in trouble.