Brad Pitt's interviews for his 'Make It Right' project by two separate news agencies referred to Angelina Jolie as his "wife."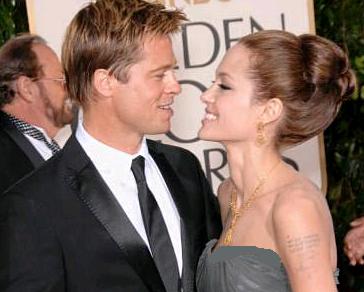 Angelina Jolie and Brad Pitt, who are popularly known as "Brangelina", may be married. It is because during two separate interviews, the "Good Shepherd" actress was referred to as Brad's wife.
Brad Pitt did several interviews today to promote his 'Make It Right' project. A report indicates, "This morning "NBC's iVillage's" Bill Rancic said this to Pitt: "Congratulations is in order to your wife because we heard today she just got nominated for a Golden Globe and you actually were involved with that film."
After less than two hours, Fox News Channel's Jane Skinner said this to Pitt: One question I asked all the women around here, what question should I ask Brad Pitt, and outside of can I have a date with him, which is impossible because we all know you're happily married with a whole bunch of kids. (Brad chuckled) A lot of people wanted to know about your dramatic life, I shouldn't say married, I'm sorry, Angelina is your girlfriend and you have those four gorgeous kids.
Brad Pitt (smiling) said, "It's all the same." Perhaps Angelina Jolie as Brad's wife is just a slip of the tongue. Meanwhile, Jon Voight still trying to talk with Angelina Jolie.
When Jon Voight appeared on the Fox syndicated show "The Morning Show With Mike and Juliet" to promote his new "National Treasure" film (a sequel to the smash hit from two years ago) Voight desperately tried to not talk about her. But when the issue was forced by the hosts he had no choice. He was gracious and sent his love to Angelina and his son James Haven.
Comments
comments