A new report has blamed the "Toxic" diet for Britney Spears' increasingly bizarre behavior.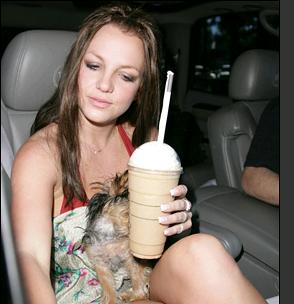 The experts judged whether Britney Spears' love of fast food and Frappucinos is responsible for the head-shaving, umbrella-welding and general craziness.
Dr. Timothy Brantley, a PHD who educates patients on the "power of food," revealed, "When you take a look at Britney Spears and her behavior, it's very frightening. She's a person who's completely addicted to sugar. This is like heroin for a junkie. She's literally on a roller coaster to hell."
Dr. Brantley is particularly unimpressed with the singer's love of Frappuccinos, saying, "Caffeine and sugar in this drink will drive your blood sugars and hormones crazy and it can effect your mood for hours."
Meanwhile, Britney Spears 'Piece Of Me' Music Video has a preview online. The "Gimme More" singer, who released her first single just before the VMAs, decided to do a song that explains how the paparazzi blow everything out of proportion. Her comeback single was reportedly completely sexual.
Comments
comments