Brangelina bagged the title of Couple of the Year by Us Weekly, almost three years of Brad Pitt's split from actress Jennifer Aniston.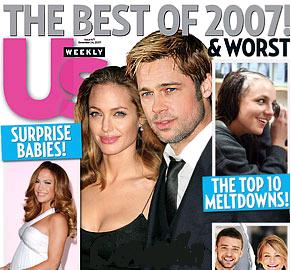 It appears that the "Mr. and Mrs. Smith" couple is a hot item as they juggled two hot careers and went from three kids to four, which prompted Brad Pitt to say, "we're just getting started."
Then the couple went to another level as they began endless humanitarian work and the "Good Shepherd" actress recently supported the "Babel" actor in New Orleans when he announced plans to build 150 more home there by next summer.
Tom Cruise and Katie Holmes landed the second spot. The couple continue to radiate as they have little daughter Suri. A source revealed, "Tom is definitely ready for more babies."
Aside from Brangelina hitting the cover of the magazine, the new issue also includes Us' Best and Worst of 2007 —the year in hookups and breakups, surprise pregnancies and Top 10 Meltdowns.
Comments
comments