Though he was absent at the UK premiere of "Inglourious Basterds," Brad Pitt showed up for the movie's premiere in Berlin on Tuesday.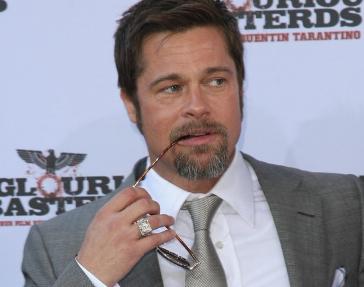 In the Quentin Tarantino WWII epic, Pitt plays a lieutenant out for grisly revenge against the Nazis, Diane Kruger is an actress and undercover agent and Melanie Laurent watches a Nazi commander played by Christoph Waltz kill her family.
"Inglourious Basterds" opens August 21.
Meanwhile, a heavily customised chrome bike was unloaded at his Los Angeles home.
But it didn't look at all comfortable – sporting a metal seat.
Among others Brad already owns a Ducati Desmosedici RR, a Monster 696 and a selection of Harley-Davidson choppers.
In an interview he revealed that he uses them to escape the attentions of the paparazzi.
Brandishing a motorcycle helmet, he told a reporter at W magazine: "This is my anonymity. With it, I'm just another a***hole on the streets."
As his new toy was being unloaded Brad was across town with his Inglourious Basterds co-stars at a press event.
The 45-year-old actor is reported to have moved into a separate two-bedroom house from the rented family home he was sharing with Angelina Jolie and their six children in Beverly Hills.
He is said to be having problems in his relationship with actress Angelina.
A neighbour of his lodge-style home told Grazia magazine: "He only moved in quite recently. There have been a couple of nights when we've heard him playing Nick Drake quite loudly."
Comments
comments