Robert Pattinson and Kristen Stewart reunited at Comic-Con in San Diego Thursday.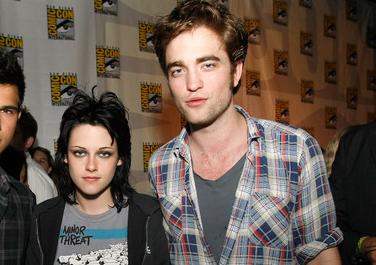 The pair had spent most of the summer apart. Kristen has been in Los Angeles filming Joan Jett biopic The Runaways; Robert has been in New York filming indie drama Remember Me.
After doing their duties promoting Twilight sequel New Moon at the Uber-Hollywood trade show, the pair finally got some alone time.
So, how did the hot, young stars spend it?
In true Hollywood style, of course!
Pattinson, 23, reportedly entertained his rumored lover in his limo back to Los Angeles for 3 hours.
Kristen, 19, ditched her own car to ride with Rob, the National Enquirer reports.
At Comic-Con, Kristen was questioned about her relationship with the British actor. She rolled her eyes, laughed and said, "Are you kidding me?"
Rob recently insisted that despite his new-found fame, he is still the same guy.
"I would like to think that I haven't changed that much," he said. "Within myself I don't think I have changed but I guess that outwardly — like when I walk down the street I look down a little more often.
"But this is just extraordinary. I don't think any of us expected this to happen and it just seems to keep building and building."
Comments
comments