Hollywood superstar actor Brad Pitt's secret for staying fresh on the go has been revealed – he rubs baby wipes on his armpits.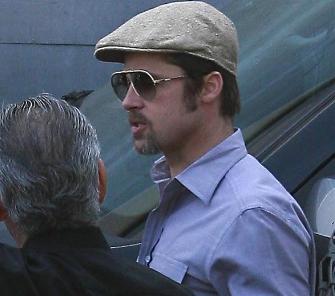 The domesticated by Angelina Jolie dad-of-six passed on his tip for beating body odor on the run to Inglourious Basterds co-star Eli Roth.
"After a scene, Brad had to stand next to me for a close-up shot, and he said, 'Damn, you're ripe,'" revealed Roth. "I said, 'I didn't have time to shower.' "He said, 'Baby wipes, man, baby wipes.'" Roth says Pitt told him, "All you've got to do is just take… a couple of quick wipes under the pits."
Roth, who plays a baseball-bat swinging Basterd, Sgt Donny Donowitz in the World War II flick, admitted Pitt's advice stopped him getting sweaty on set.
"I thought that was the greatest tip," the Death Proof star said. "If I ever started to smell like a bear, I would just use a couple of baby wipes."
Meanwhile, Brad Pitt gets down to business at Smashbox Studios in Hollywood and then hops on a private jet at Burbank Airport on Tuesday (June 2) in California.
The 45-year-old actor is set to star in Moneyball, which begins shooting on June 11. The flick centers on the major-league's Oakland A's and their general manager Billy Beane (Pitt) who attempts to draft players to the team using computer-generated analysis.
Comments
comments